BROADSIDES

Box (front and back):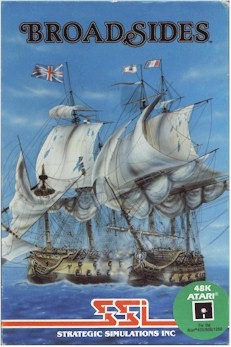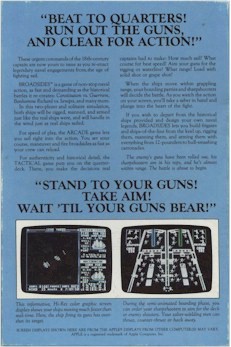 PLAYER MANUAL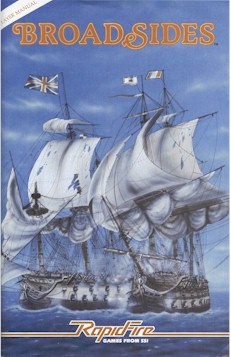 LIMITED WARRANTY



Strategic Simulations, Inc. ("SSI") warrants that the diskette on which the enclosed program is recorded will be free from defects in materials and workmanship for a period of 30 days from the date of purchase. If wIthin 30 days of purchase the diskette proves defective in anyway, you may return it to Strategic Simulations, Inc., 883 Stierlin Road, Building A-200, Mountain View, CA 94043-1983 and SS! will replace it free of charge. In addition, If the diskette proves defective at any time after the first 30 days, return the diskette to SSI and SSI will replace It for a charge of $10.00. Please allow about four weeks for delivery.

SSI MAKES NO WARRANTIES, EITHER EXPRESS OR IMPLIED, WITH RESPECT TO THE SOFTWARE PROGRAM RECORDED ON THE DISKETTE OR THE GAME DESCRIBED IN THIS RULE BOOK, THEIR QUALITY, PERFORMANCE, MERCHANTABILITY OR FITNESS FOR ANY PARTICULAR PURPOSE. THE PROGRAM AND GAME ARE SOLD "AS IS." THE ENTIRE RISK AS TO THEIR QUALITY AND PERFORMANCE IS WITH THE BUYER IN NO EVENT WILL SSI BE LIABLE FOR DIRECT, INDIRECT, INCIDENTAL. OR CONSEQUENTIAL DAMAGES RESULTING FROM ANY DEFECT IN THE PROGRAM OR GAME EVEN IF SSI HAS BEEN ADVISED OF THE POSSIBILITY OFSUCH DAMAGES. (SOME STATES DO NOT ALLOW THE EXCLUSION OR LIMITATION OF IMPLIED WARRANTIES OR LIABILITY FOR INCIDENTAL OR CONSEQUENTIAL DAMAGES, SO THE ABOVE LIMITATION OR EXCLUSION MAY NOT APPLY TO YOU.)

The enclosed software program and this Rule Book are copyrighted. All rights are reserved. This Rule Book may not be copied, photographed. reproduced. or translated or reduced to any electrical medium or machine-readable form, In whole or in part, without prior written consent from SSI. The program accompanying this Rule Book may be copied, by the original purchaser only, as necessary for use on the computer for which It was purchased.



© 1983 by Wayne Garris.
All Rights Reserved.



SPECIAL NOTES:

º BROADSIDESTM is compatible with the MockingboardTM in slot #4.

º Certain hardware items (such as a Z-80 card) placed in slot #4 will prevent the BROADSIDES game from functioning properly. If your disk will not run and you have a card in slot #4, remove the card and the game will load correctly.




Mockingboard is a trademark of Sweet Micro Systems.



Table of Contents
1.0 INTRODUCTION
1.1 Loading the Program
1.2 Stopping the Game Temporarily and Restarting the Game
1.3 Sound On and Sound Off
1.4 Arcade vs. Tactical Levels of Play
1.5 Talking to the Computer While Sailing
1.6 Talking to the Computer While Boarding
1.7 Description of Action
1.8 Setting the Pace
1.9 Changing Modes
2.0 THE OPTIONS PAGE AND VARIABLES PAGES
2.1 The Options Page
2.2 Variables Pages (Ship Characteristics)
2.3 Variables Page 1
2.4 Variables Page 2
2.5 Variables Page 3
3.0 SAILING SCREEN
4.0 BOARDING SCREEN
5.0 SAILING AND CANNON FIRE
5.1 Time
5.2 Disengagement
5.3 Turning
5.4 Speed
5.5 Port and Starboard
5.6 Broadsides
5.7 Lme of Sight
5.8 Point Blank Fire
5.9 Rakes
5.10 Commands (Arcade and Tactical)
6.0 BOARDING
6.1 Explanation of Boarding
6.2 Boardmg Commands
6.3 Surrender
7.0 ENDING THE GAME AND VICTORY CONDITIONS
7.1 Points for Destroying Sails and Masts
7.2 Pomts for Destroymg Hull
7.3 Points for Killing Crew
7.4 Points for Destroying Guns
7.5 Bonus Points for the Victor
7.6 Final Victory Point Determination
8.0 STATISTICS ON SHIPS OF THE NAPOLEONIC ERA
8.1 British Ships
8.2 French Ships
8.3 American Ships
8.4 Spanish Ships
8.5 Ships Stored on the Game Disk
9.0 GLOSSARY OF TERMS
html-ized by Dan Vernon -- May 2002